Trip log, Part 2: Win some, lose some. But mostly win some.
(Note: for bigger versions of any picture, click on it.)
This morning we got up and discovered that in fact, the down comforter had made Eric nearly unable to breath last night. So we made plans to hit Ikea in a zipcar, and then take it to Tibidabo and check out the science museum and the amusement park. Fortunately, it turned out the rental folks could get us a non-allergenic quilt, so we didn't need to hit the Ikea after all.

"Parquet" concrete deck.
Getting the Zipcar (or "Avancar" as they're called here) was uneventful, though getting out the city was more than a little hairy, between traffic insanity, learning new signage, poor road indications, and a manual transmission. Eventually we made our way halfway up Tibidabo to CosmoCaixa, the science museum. It was definitely the best 2E I've ever spent on museum admission.
The museum is wonderfully designed, with an enormous spiral ramp from the entrance at the top all the way down to the giant exhibition hall on the bottom floor. There is a timeline that extends down the spiral (counting from an asteroid hitting earth 4.5million years ago and stirring the primordial soup) and eventually counts back up a series of ramps showing the development of microbes, small animals, vertebrates, etc, with examples of each type of fossil as they go.

I'd never seen a whole crinoid fossil before.
We made it halfway down the spiral before deciding we really needed food, so we went back to the cafeteria and had a very respectable Iberican ham (me) and brie&salmon (Eric) sandwich. Thus fortified, we went back down the main floor of the museum. It was definitely the best set of general exhibits I've ever seen in a science museum.

This was a glass box with stones, sorted on three axes: "sphere/oblong", "size", and "color". It was both aesthetically pleasing, AND educational.
They didn't have any particularly interesting special exhibits, but their collections of hands-on demonstrations of physics principles was fantastic, and they had many lovely collections of disparate objects (minerals, shells, plants, etc.) that all demonstrated the same physical principles (fractal nature, angle of incidence) or similarities of form.

From the "similarity of form" exhibit — a piece of mining slag that bears a resemblance to a bird's wing.
I was also impressed with the sheer physical beauty and good design of the exhibits — they were all set up like displays of actual works of art, and even the physics demonstrations were just PRETTY.

Did you know there were straight ammonites?
They also had an amazing rainforest set up in half the exhibit hall, with underwater viewing for the fish and reptiles, and a strange little open window into an area where several bird were hanging out.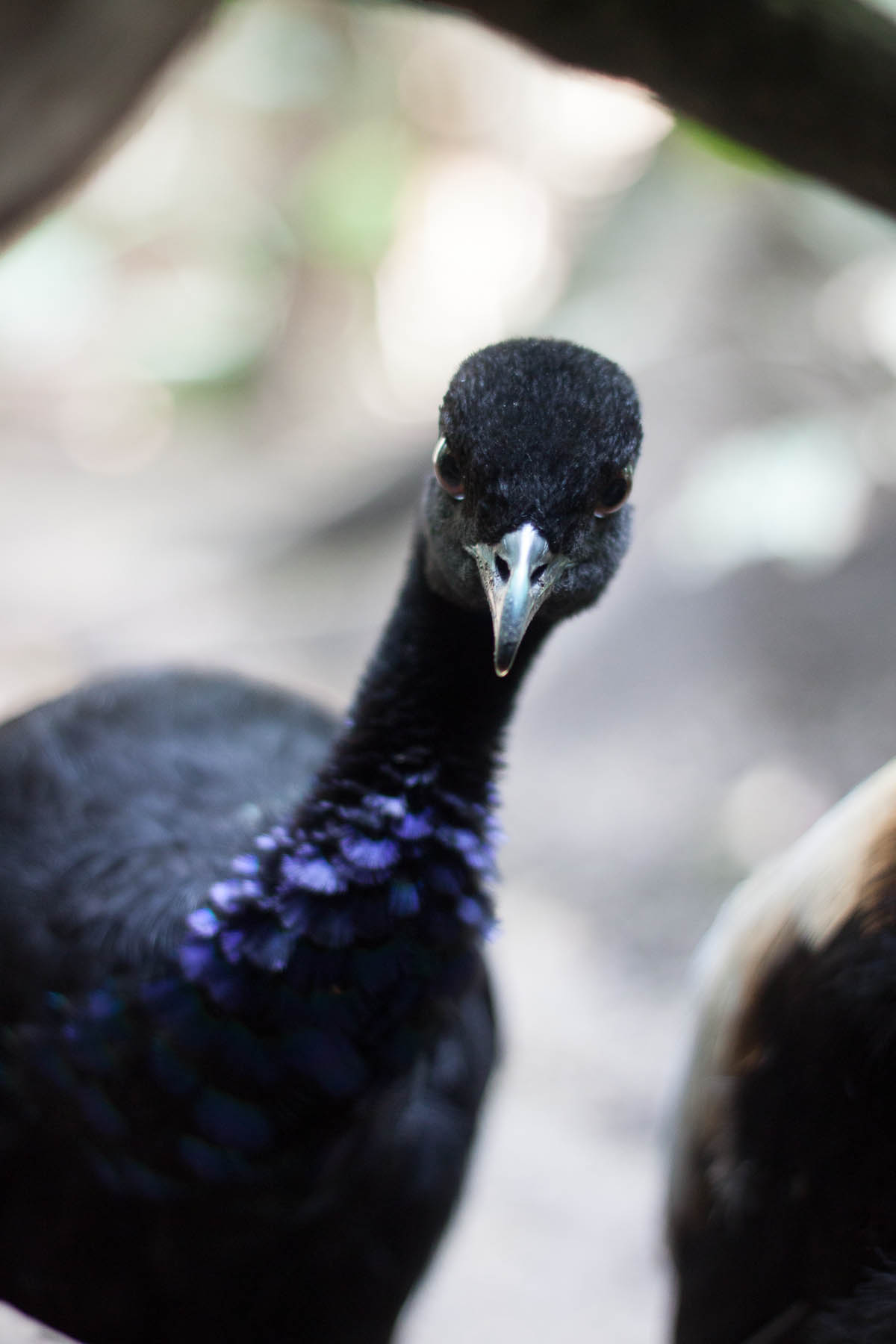 The birds had come right to the open window, and one took it into its head to fly across the corridor, which startled some of the onlookers considerably.
After leaving the science museum, we headed further up the mountain towards the amusement park. We were taunted by the sight of an amazing-looking rollercoaster set into the side of the hill, and a copter-type flying ride, but were stymied waiting for parking.
The street for miles below was lined with cars, and we waited fruitlessly in line for the full garage for 20 minutes before giving up. We spent a while driving around the hills, taking pictures and trying to find a back way around to at least see the cathedral on the hill, but had no luck.

There was a hobbit hole along the highway!

I was very amused by "Casa de No".

Picturesque ruins by the highway, sadly blurred as we drove by since there was nowhere good to stop.
We drove back into the city and attempted to navigate back to the zipcar spot, when unfortunately I ran plumb off the end of my cope and blood sugar. Navigating back to the spot took 45 minutes longer than it should, and involved the GPS persistently routing us through streets that weren't actually car-passable.

Our path was blocked by fierce winged doggies.
Eventually we made it back, parked, and hit the tapas place at the end of our block. We were famished, but I think the food was also quite good. We had deep-fried thin crispy artichoke slices, a tiny burger topped with onion jam, brie and pine nuts, a large burratta with tomato confit and rocket salad, and asparagus tempura with remoulade. And a half-liter of very nice rose wine.

The columns of the market. "That's not just the wine, those really AREN'T remotely straight!"
And afterwards I felt much better, and was thinking to myself… oh right! This is what emotional resilience feels like! I'd kind of forgotten. So that was lovely.
We went back to the flat and switched out some clothing for evening temperatures, and walked to the maritime museum hoping to get there on Sunday for the free day before it closed at 8pm. We tried to keep a fast pace to get there in time, but were interrupted first b a full procession of 15 horses down the mainstreet…
…and then by a giant medieval-looking pageant spilling out of one of the municipal buildings (complete with paper-mache lion, gryphon, king&queen, and very loud fireworks)…
…and bullied our way through the tourist trap that is la Rambla. Unfortunately, we got to the museum at 7:40 and they said they closed at 7:30. But we met a hysterically drunk American couple in the courtyard who encouraged us to climb a sculpture they'd just been photographing themselves on, and offered us some of their (very blue, plastic-bottled) absinthe. We declined, and he took a swig and nearly spat it out, saying "wait, it tastes like licorice! Why does it taste like licorish??"
Since we'd been stymied by the museum, we decided to at least head down to the water in Barceloneta. We saw lots of sailboats and posing tourists, and the Mediterranean was lovely.

Christopher Columbus is apparently Team Barcelona.
Then we walked back by the small streets near la Rambla which had had some wonderful shops and restaurants. We found a plaza full of pot-smoking skaters (rollerblade and quads, not boards)…

I wanted to ask her if she did roller derby, but didn't.
…and a large stereo-setup blasting pleasant music. We found some pretty churches and a million places selling gelato.

I appreciated that the graffiti was in english :p
Eventually, we stopped for second-dinner at Bubo which I'd been wanting to try. We had Moar Tapas: their set menu, which was a glass of wine and a bunch of tapas and an individual cake for 16E. They fed us patatas bravas, and bread sticks with a side of gazpacho, and tiny omelet/quiche objects, and marinated chicken on a stick, and deep-fried cheese with a sweet onion relish, and this amazing little grilled cheese-and-duxelle sandwiches. The cakes were also nice, though one of them was something more like cheesecake (topped with strawberries, gooseberries, and some strawberry/basil gel, surrounded with a white chocolate shell) and the other was a pear-gel over a lovely sponge cake and mascarpone confection the texture of tiramisu.
And then we came home and Eric has a fever of 101.5 so I hope he's feeling better after lots of sleep, because tomorrow is MOAR DRIVING, and the Dali museum!

Street art. And commentary (check out the lower right).