Day 16: Prague. Warning: contains architecture.
We got up early, and took two cabs (at exorbitant but sadly unavoidable expense) to the airport.
The airport had really neat chairs.
The flight was uneventful, and we found our rental-provided ride with no problem. We got to the apartment which was still being cleaned, so we were allowed to leave our luggage quickly and then went out to explore the city.
Even the apartment has amazing art nouveau detailing.

Not art nouveau, but I felt like some sort of masked mondrian superhero was staring at me every time I passed the window.
The apartment was also HUGE. It had 3 bedrooms which each had beds for 4-6, and a huge livingroom, with an enormous windowseat. And an eat-in kitchen. And an enormous jacuzzi soaking tub. I want to go back to Prague with a mob and stay there for a week, who's in?
Prague is a barrage, an unremitting orgy of jugendstil architecture that literally had me whimpering with overstimulation with every corner we turned.

The "Spanish Synagogue", about which more later.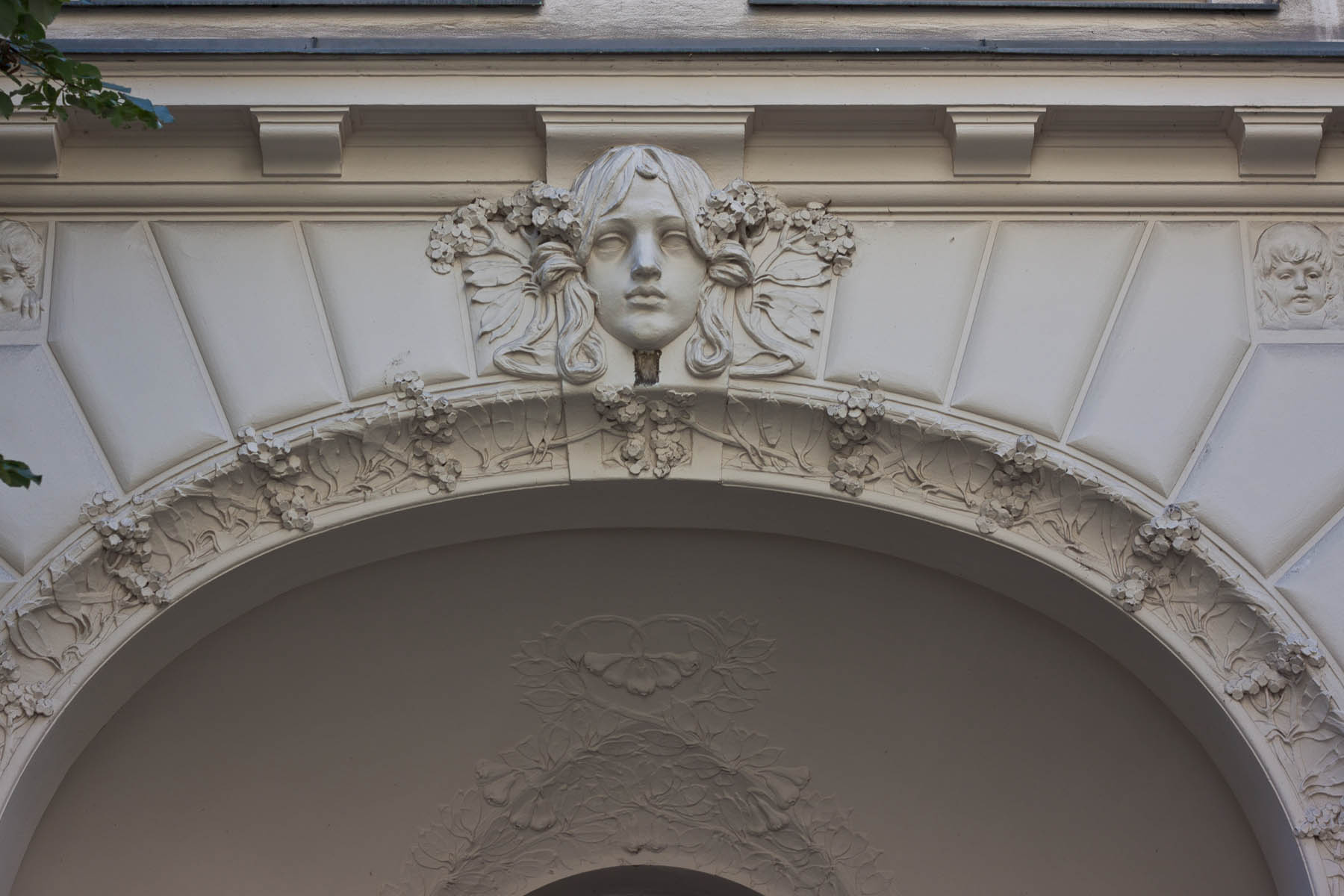 Not Art Nouveau, but the window of the Christian Dior shop near us, which I thought was fascanating.
Our apartment is in the old Jewish quarter – pretty, quiet, but convenient to the touristy areas. We walked toward old Town square, and blundered into all the street food vendors which was just about perfect from the point of view of needing many calories, efficiently, with local color. We ate sausages and palacsinta and crazy spiral pastry things and admired the street art.

Adorable just-married couple.

Crazy spiral pastry things! (Trdelnik)

I think the folks who designed the doors in Disney's "Alice in Wonderland" must have seen this door.
Then we spent an hour or two wandering the streets – established that we wanted to tour the municipal hall but needed tour tickets day-of, walked halfway across Charles bridge, admired amber and garnets and marionettes and were appalled by Shrek getting a fish pedicure. (Really. Big guy in a Shrek costume, sitting in the window of a day spa, with fish eating his feet. I'm not actually sad I didn't take a picture: seeing that once was enough.)
The municipal hall:

(Not the municipal hall, just another neat place across the street.)
We found that the marionette museum was sadly closed, fell in love with more art (engravings in a small gallery run by a man whose father was good friends with Terry Gilliam and sold him art frequently), took pictures of ALL THE ARCHITECTURE and whimpered a lot…
and happened to wander back through old Town square just as the astrological clock struck the hour. Which was nice, since we were willing to stand around and wait for it, but since it happened to be occurring in front of us…

My one picture of the clock. Which is awesome, but is also perpetually surrounded by an enormous gaggle of tourists and pickpockets, in the searing sun. It's a neat device, but since every single piece of schwag from Prague has it on it, I didn't take a lot of pictures myself.
We got marginal ice cream and reasonable beer in a cafe when the heat and serious museum-fatigue had set in just from wandering the streets. We went to to the Klementinum and signed up for the tour that would show us the astronomy tower, the chapel of mirrors, and most importantly the library of Prague. We were all quite sad when the tour claimed photos were not allowed, but were incredibly happy when the guide (a cute 20-something native) said "If you take pictures, I did not see it, it didn't happen".

Someone should organize a "famous organs of europe" tour. (Someone probably does.) These were in the chapel of mirrors.

See? Mirrors. (See? Me!)

Fake marble. Made of dyed gypsum (apparently more expensive to make than buying real marble would have been, but you can get awesome colors like this. It's made from real stone, but gypsum has a lower heat transfer coefficient than marble does, so it doesn't feel quite as cold to the touch.
The library was even more breathtaking than I hoped, even if it was preservationally dim. It smelled even better than it looked-I'm not sure I've ever before been in the presence of so MANY books of that age.
The views from the tower were quite amazing:

Eric's angelic!
We stopped by the national (modern) library, but sadly it was shut. So we admired the art outside, noted the hours, and made plans to come back. (My travel companions are very tolerant.)
…and then there was more architecture. Sorry, there's going to be a lot of this.

These ones reminded me of the Beethoven Frieze. And a little of Ursula Vernon — saint of tiny fishes!
We got dinner at a nice place not far from our apartment. I had the veal schnitzel, which was precisely what it said on the tin-the batter was crispy and light and not too salty, and it came with pickles and an enormous mound of mashed potatoes. I could wish it had come with something in the way of sauce, but it was still delicious. Kendra definitely won dinner though, with a stuffed chicken dish that involved a very mushroomy truffle sauce.